Simply Stay Younger
YNGR | Slow-Aging App
The YNGR® app is your digital slow-aging coach for lowering your biological age for healthy longevity.
The YNGR® App is based on the latest scientific findings in aging and health research, especially epigenetics.
Here you can download the YNGR® App for free: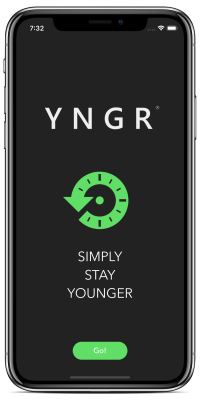 Stay fit & healthy even in old age
Slow-Aging is the new Anti-Aging
How healthy and vital you will be in old age depends mainly on your actual lifestyle. It is up to you whether you age faster or slower. Through an appropriate lifestyle, you can maintain your vitality and quality of life into old age and minimize the negative effects of aging ("slow-aging"). 
YNGR® was developed based on the latest scientific findings in aging, health, and medicine with the participation of physicians.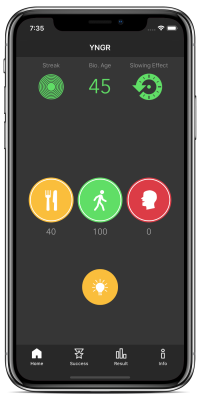 Slow down your aging process
The "Slowing Effect"
Your well-aging coach YNGR® playfully motivates you to adopt a lifestyle with which you can slow down your body's aging process, reverse your biological age and thus stay fit and healthy even in old age.
YNGR® suggests possible activities in the areas of diet, exercise and mental activity that can bring about such a "slowing effect".  
The app continuously calculates your "Aging Index" from the Slow Aging activities you log every day and the body data you enter. This shows you how fast or slow you are currently aging.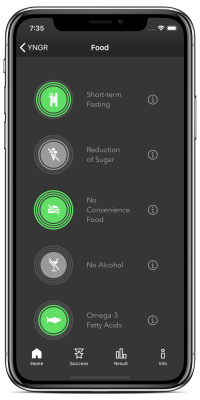 Reverse your biological age 
Become younger again
The displayed biological age gives you an indication of your current vitality. From a biological point of view, you can even become younger if you change your lifestyle in a way that decreases your Bio Age. 
Decrease your Aging Index with your slow-aging activities and reverse your biological age!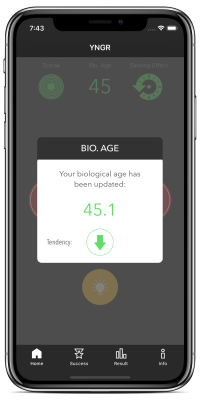 Enjoy playful motivation
A rejuvenating lifestyle will be rewarded 
For each slow aging activity, you will receive a certain number of points. Track your activities every day to maintain your streak, because continuity is the key to success! Special efforts will be rewarded with badges.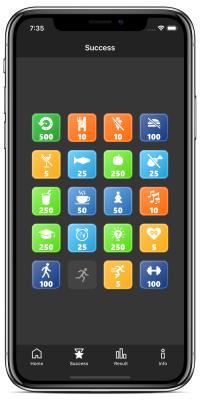 Get a new slow-aging tip every day
Latest slow-aging know-how
Every day, your slow-aging Coach YNGR® provides you with a valuable tip from current research on aging and health medicine on how to effectively slow down your aging process.